Tickets are issued immediately after a successful credit/debit card payment has been made. This is an automated process so if tickets are not showing on your account, please troubleshoot the the possible reasons below.
A failed credit/debit card payment. If your payment was unsuccessful then your tickets will not have been issued.
If your payment was successful you should have received a confirmation email from Viva Wallet sent to the email address associated with your Raffall account.
If you have received the payment confirmation email sent from Viva Wallet but do not have your tickets, please forward the email to payments@raffall.com and a member of our support team will investigate this immediately.
If you did not receive a confirmation email from Viva Wallet, please send us a screenshot of the card issuer's statement that clearly shows the payment made to 'RAFFALL'. The screenshot must show the transaction date, the amount, the payee and/or any reference if applicable.
Purchased Raffall credit. It's possible that you purchased Raffall credit instead of purchasing tickets directly.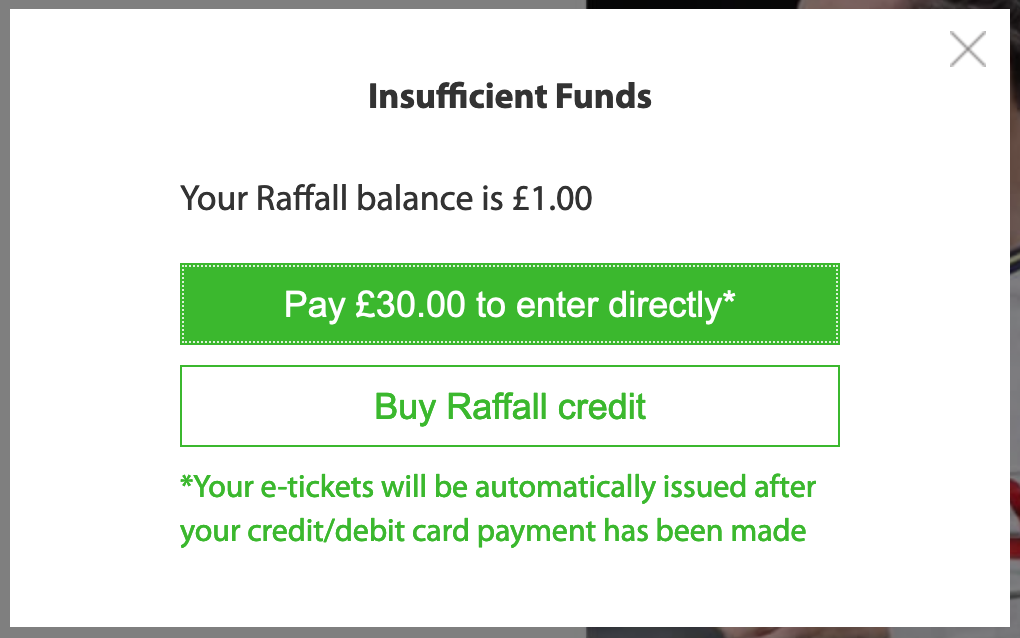 If you pressed the 'Buy Raffall credit' button instead of the 'Pay to enter directly' button, the Raffall credit would have been added to your account and you should see this amount reflected in your balance at the top right side of the screen.

Raffall credit can be used to enter any competition on our platform. If you are unsure how to find the competition you wanted to enter, please try the below.
Try searching the social media accounts of whoever might have shared the competition to you.